Practice Areas
Mediation & Arbitration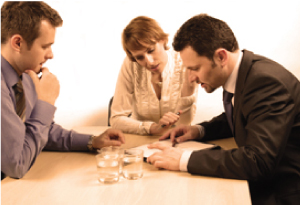 Mediation & Arbitration Attorneys
Folkestad Fazekas Barrick & Patoile, P.C., attorneys utilize negotiation and courtroom skills to achieve optimum results for our clients, using mediation & arbitration when possible.
Mediation and arbitration are alternative methods of dispute resolution, in which an impartial third party assists in reaching mutually acceptable solutions to a disagreement.
Arbitration is binding on all parties, while mediation is not. Often, mediation or arbitration are cost-effective alternatives to litigation, pursued at a point in litigation when the clients and attorneys believe it might prove successful.
We find that mediation and arbitration can be used effectively in settling contract and lease disputes, employment cases, divorce, and child custody disputes. They offer cost-effective ways for clients to successfully resolve their disputes and achieve satisfactory results, usually in a way that allows the parties to continue working together in the future.
Folkestad Fazekas Barrick & Patoile, P.C., serves the Denver, Colorado, metro area with offices in Castle Rock, Douglas County, Colorado. We provide representation in the local, state and federal courts including Adams County, Arapahoe County, Boulder County, Denver County, Douglas County, Eagle County, Elbert County, El Paso County, Gilpin County, Jefferson County, Larimer County, Lincoln County, Park County, Pitkin County, Summit County, Teller County and Weld County. Representing clients in Castle Rock, Parker, Highlands Ranch, Colorado Springs, Littleton, Lone Tree, Centennial, Cherry Hills Village, Englewood, Greenwood Village, Lakewood, Golden, Kiowa, Elbert, Broomfield, and Denver.